Computer repairs - Witbank
Tuesday, 16 April 2019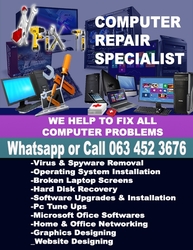 Item details
City:
Witbank, Mpumalanga
Contacts

Allan

0634523676
Item description
List of Repairs and Services
Desktop computers
Onsite callout assessment
Next business day service
Laptops
Software Installation and upgrades
ADSL Modems and Routers
WAN & Wireless Modems and Routers
NAS Drive setup
Hard Drive Backup and replacement
Cellphones
Smart Devices
General Maintenance
Network Maintenance
Wireless Connectivity
Internet support
Virus removal
Troubleshooting
Hardware and Software sales
Diagnosing & Tracing Network Cables & Points
Wireless Assessment
Antivirus installation
Setup Cloud Backup
Third Party software
Quick Books Setup
Data Recovery
Networking
Computer Training
Personal Shopper Service

Also We specializes in an A-Z backup, format and reload of the full
operating system, on just about any laptop or desktop device from any
of the most well known manufacturers. We assist with updates to macOS
as well as Windows 7 or Windows 10 systems. We offer advice and assist
with setup of various cloud services. We offer hardware and software
upgrades such as conversions to a SSD (solid State Drive) for almost
any computer as well as dual hard drive configurations. RAM or memory
upgrades are also popular.

Screen, keyboard, battery, charger and various chassis part replacements,
are just some of the services we offer on laptops. We are also one of the
only centres to repair laptop hinges and hinge mountings, saving thousands
in replacement costs.